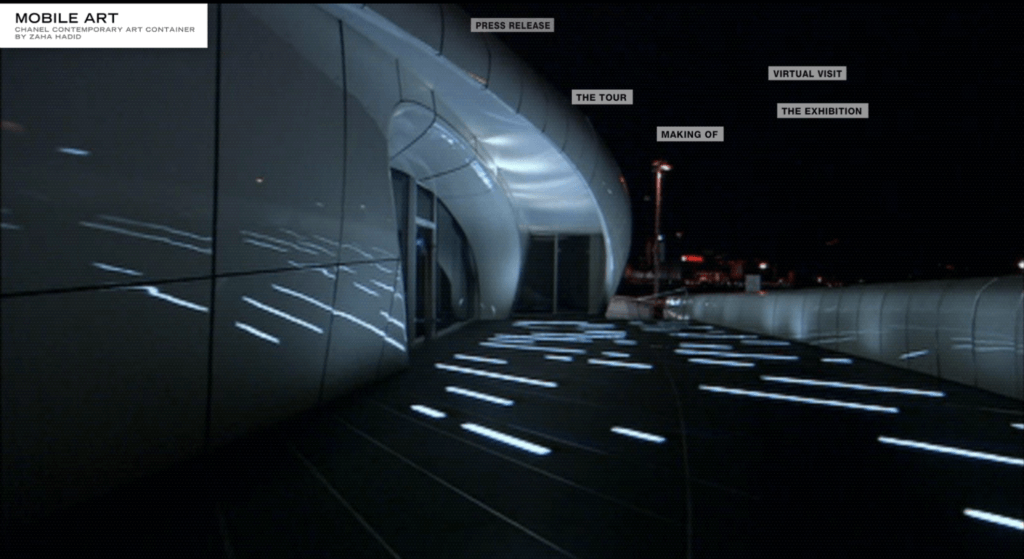 CHANEL MOBILE ART Hong Kong, Tokyo, New York
—
With Jeanne Moreau
Commissioned by Chanel for the Chanel Mobile Art pavillion by Zaha Hadid, 2008
SOUNDWALK with Jeanne Moreau, part of group exhibition featuring Blue Noses, Daniel Buren, David Levinthal, Fabrice Hyber, Leandro Erlich. Loris Cecchini, Pierre & Gilles, Sophie Calle, Stephen Shore, Sylvie Fleury, Wim Delvoye, Y.Z. Kami.
"Mobile Art" is a traveling exhibition devised as a three-dimensional film and presented in a futuristic pavilion specially created by the architect Zaha Hadid.
The creative concept of "Mobile Art" is the result of an aesthetic experiment conducted over the last two years in which the values and visual language of Chanel confronted those of some twenty contemporary artists from different geographic and generational origins.
The Chanel Mobile Art Container's two-year world tour began in Hong Kong on February 27, 2008. Soundwalk has since guided thousands of visitors through the sold-out exhibition in Hong Kong and Tokyo. "Mobile Art" will arrive in New York October 20, 2008 before moving on to London, Moscow and Paris over the course of 2009.