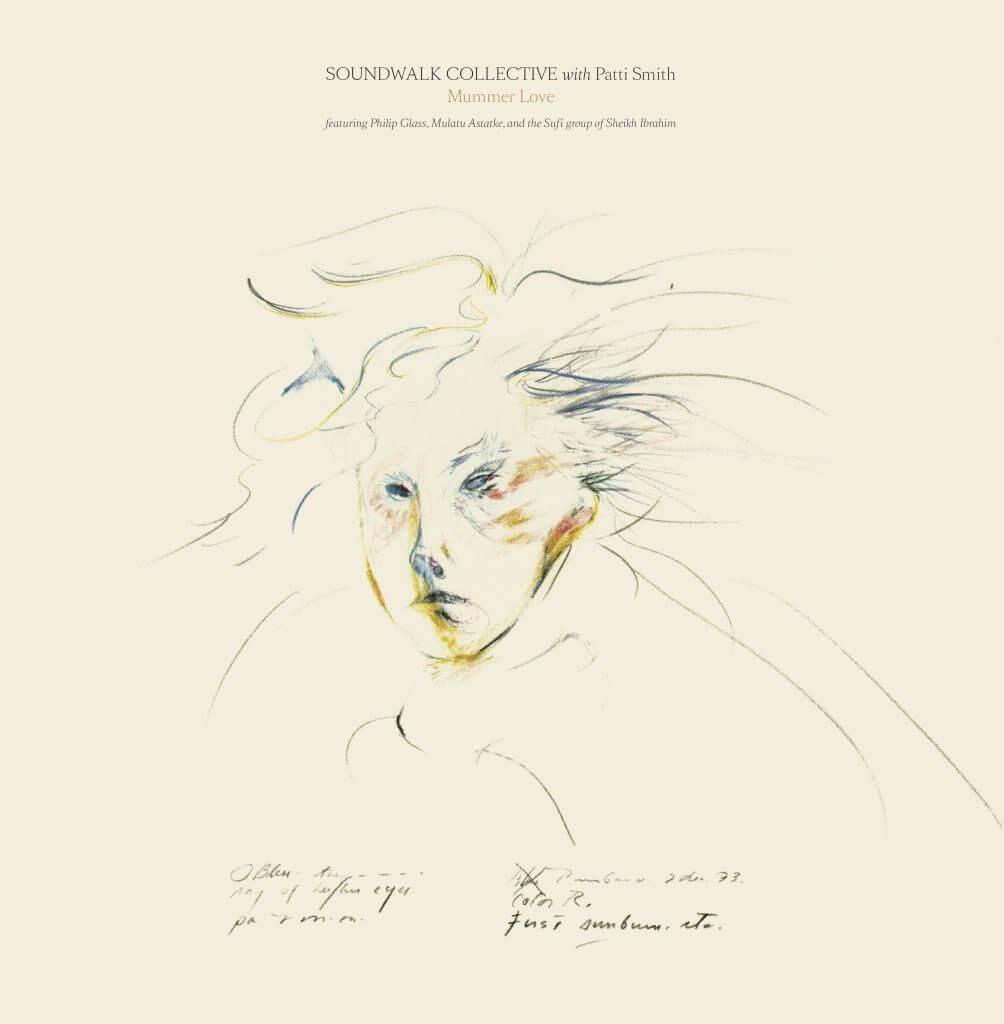 SOUNDWALK COLLECTIVE with Patti Smith
MUMMER LOVE
2019
—
Featuring Patti Smith, Philip Glass Mulatu Astatke and The Sufi group of Sheikh Ibrahim

Available via Bella Union
Order HERE


For this body of work, Soundwalk Collective journeyed to Africa to explore the intricacies
of Arthur Rimbaud's most obscure period. After leaving France and what he deemed the
'western stagnation', Rimbaud found himself in Harar, Ethiopia – an epicenter of Sufism in
Africa. Sufi practise focuses on the renunciation of worldly things, the purification of the
soul and the mystical contemplation of God's nature. Sufism is a mystical form of Islam,
and its music is about reaching a communal ecstatic state, and once you find yourself
there, you are granted access to the unknown. The Soundwalk Collective spent time with
the Sufi group of Sheikh Ibrahim to record their music and chants, in the whole region
formerly know as Abyssinia. "You obtain connections to other levels of yourself and
consciousness," Stephan Crasneanscki mentions of the musical process. "This connection,
like poetry, is a universal language. A language of the soul, for the soul."
As with the other albums in the triptych, the Collective searched for hidden, earthy
sounds that hold memories and embed existence. For Mummer Love, they also found
themselves recording under the tree where Rimbaud photographed the shrine of Sheik
Abadir Umar ar-Rida al Harari, the founder of the holy city Harar. "As the rain fell, I
wondered if I was hearing the drops hitting the leaves the same way Rimbaud did 140
years ago," Crasneanscki says. These sounds and Sufi chants coexist with Patti Smith's
interpretation of Rimbaud's poems, as she recites and sings among them in a call and
response, sharing the same musical and spiritual space. Smith's only poem is the title track Mummer Love, written to Rimbaud; her words are rooted in multiple aspects of the
self: from the passion of a lover to the care of a mother, and everything in between.
Further contributions to this album come from Mulatu Astatke, widely considered the
father of Ethio-jazz, and Phillip Glass, who's long felt a connection to Sufi music – here
coming together and evoking a call and response between piano and vocals of the Sufi
masters. It is simultaneously the first time Glass collaborates with Smith, and so Harar
becomes an extraordinary meeting place for all to celebrate the beauty of Rimbaud's
work.
Referring to the overall work, Smith likens the project to a fourth mind equation.
"Because we are working with other people's work, and not just reading it but channelling
these people, they become a fourth mind. We are Rimbaud, you, I, and the work," Smith
says in conversation with Crasneanscki. The unification of all minds together magnifies its
power and potential. "It makes me think of Rimbaud's energy, his strong will," Smith says.
"If we, the living, send out radio and energy waves, the energy of those last poems is still
reverberating. It can't be silenced, because we understand that this work and the artists
are not dead, they find life when we are recording them."
Entitled The Perfect Vision, this musical triptych, which has been co-produced with
Leonardo Heiblum and supported by the Analogue Foundation, aims to go beyond 20/20
vision and explore a dimension that exists on a non-physical plane. What one can
physically see is only the beginning – this project transcends what we think we see, by
multiplying experiences, languages and energies. "We went through places like Mexico,
Ethiopia and India to search for a perfect vision, in spaces where you can still feel a sacred
presence – where the Gods are still among you," says Crasneanscki. "In this idea of
perfect vision, there is the idea of oneness, and with that comes a sense of supreme
love."
Artistic direction and Realisation: Stephan Crasneanscki with Patti Smith
All music produced by Soundwalk Collective with Patti Smith in Harar, Addis Abeba and NYC
in collaboration with Leonardo Heiblum, Abegasu Shiota
All texts written by Arthur Rimbaud, except
Mummer Love, written by Patti Smith, copyright / © (2019) (Patti Smith)
All texts performed by Patti Smith, except
Aw Abadir featuring the special participation of Amir
Eternity, Song Of The Highest Tower, Bad Blood, Sensation
featuring the additional participation of the Sufi group of Sheikh Ibrahim
Music by Soundwalk Collective,
in collaboration with the Sufi group of Sheikh Ibrahim, Philip Glass,
Leonardo Heiblum, Hans Tammen
Soundwalk Collective: field recording
Patti Smith: voice
Sufi group of Sheikh Ibrahim: voice call and answer, handclaps, foot stomping, karabu traditional drums, kabal
Philip Glass: piano, Wurlitzer
Mulatu Astatke: vibraphone, shakers
Hans Tammen: Buchla Easel
Leonardo Heiblum: kabal
Simone Merli: Moog Little Phatty, Jomox MBase 11
Additional studio recordings: Nicolas Becker
Loops: Robert Henriques
Line producers: Abegasu Shiota, Simone Merli, Paul Hance
Production assistants: Teddy, Abdhul
Recorded at the house of Arthur Rimbaud in Harar, Abegasu Shiota Studios in Addis Abeba, Hobo Sound in
New Jersey, Electric Lady Studios in New York, Eastside Sound in New York, Trixx Studios in Berlin
Studio assistants: Alemayehu Demeke, Nebil Serej
Post Production at Electric Lady Studios in New York
Mix and additional production: Russell Elevado at Electric Garden in New York
Mastering by Harris Newman at Grey Market Mastering, Montreal
Sufi interpretation of Arthur Rimbaud's text from the book 'Passages'
by Shama Books, Centre français des études éthiopiennes (CFEE), Dumerchez
with Alain Sancerni, Michel Le Dain
Amharic translations by Brook Beyene, François Morand, Berhanou Abebe. Oromo translations by Alemayehu Demeke and the Sufi group of Sheikh Ibrahim Recorded with Audio-Technica microphones
Special thanks: Philip Glass, Mulatu Astatke, Alain Sancerni, Bernard Dumerchez, Jean-Marc L'Hotel, Jesse
Paris Smith, Tony Shanahan, Clementine Bunel, Pauline Bourdon, Mickey Mulatu, Michel Le Dain, Pauline Lecointe, Embassy of France in Addis Abeba, Ambasciata d'Italia ad Addis Abeba, Harari National Cultural Center, Jean-Marc Boutonnet-Tranier, Sharon Gilamike, Marcus Gammel, Celine Ters, Lee Foster, Beatriz Artola, Ben Kane, Éponine Momenceau, Anastasia Ivanova, Francesco Petrucci, Jennie Sobol, Nina Simone Assaf, Sohichiro Matsumoto, Robert Morgan-Males, Audio-Technica
Patti Smith appears courtesy of Columbia Records, a division of Sony Music Entertainment
All rights reserved
Front Cover & Labels: artwork by Patti Smith
Back Cover and Gatefold Artwork: Stephan Crasneanscki
www.soundwalkcollective.com
www.bellaunion.com
With the kind support of The Analogue Foundation
www.analoguefoundation.com ℗©