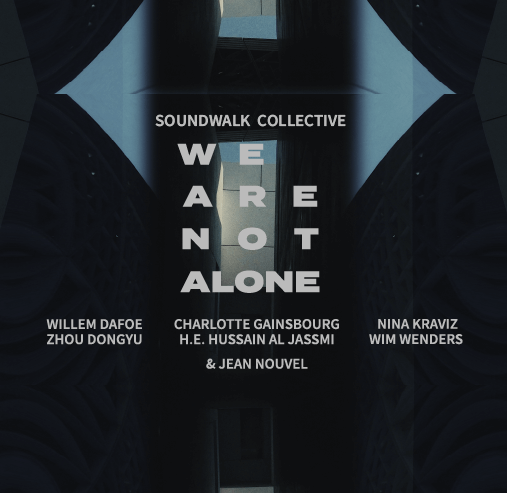 WE ARE NOT ALONE
2020
A FUTURISTIC AUDIO EXPERIENCE
Louvre, Abu Dhabi (UAE)
—
Featuring Hussain Al Jassmi, Willem Dafoe, Charlotte Gainsbourg, Zhou Dongyu, Nina Kraviz, Wim Wenders & Jean Nouvel.
We are at the Louvre Abu Dhabi, thousands of years into the future: a time where super intelligence and interstellar travel is the norm. A message of the building's architect, Jean Nouvel, is recorded for future generations like a time capsule of intent and one is invited to walk throughout the Louvre Abu Dhabi and its surroundings, to understand history, its impact and meaning in a post-human galaxy, while questioning free will, human nature and destiny.
Significantly, humans have a unique ability for abstract thinking paired with a unique affinity for the past, giving rise to museums that capture history and preserve it. We reflect as we look into the future: building on the work of our ancestors, where is our species headed? After all, lived reality is always a construction of the imagination. Interpreted by Hussain Al Jassmi, Willem Dafoe, Zhou Dongyu, Charlotte Gainsbourg, Nina Kraviz, Wim Wenders & Jean Nouvel, the audio walk concludes with an M.I.T. algorithm defining the names of future exoplanets.
Composition: Soundwalk Collective 2020
Audio Walk
Location: Exterior, under the dome
Visual collage: Brian Close (Georgia)
Louvre Abu Dhabi
Supported by NYU UAE
Arabic supporting voices: Fatima Saeed Al Romaithi + Moayad Al Shaybani
Chinese supporting voices: Zhong Qiang + Allen Zhou
English supporting voices: Mike Fort
French supporting voices: Stephan Crasneanscki
German supporting voices: Hans Tammen + Christin Nichols
Russian supporting voices: Andrey Solovyov + Anton Simpkin
Music Consultant & Buchla: Hans Tammen
Mix: Andrew Claristidge.
Mastering: Leonard de Leonard